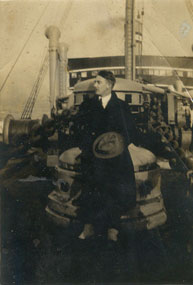 Olaf Birkeland on a ship
from Norway to Canada.
[1930s]
Olaf Birkeland and his brother Michael arrived in Vancouver from Norway in the 1930's. In 1939, when they set up their wool processing business on Main Street, they never imagined that the company would be going strong years later as the result of the energy of three generations of Birkelands.
Olaf and Michael's father in Norway was the head carder/dyer in a wool plant, and had taught his sons the wool trade; When the wool plant was modernizing their old equipment, he purchased and shipped to Canada the carding machine as a Christmas gift to his sons.
Two decades and some new Birkelands later, Norm began working under his father Olaf in the 1950's and became the head wool carder in the family business with his brother Gordon.
Norm taught the business and the skills of wool carding to his daughter, Cara who was the 4th generation Birkeland to run the Birkeland Carding Machine!
Cara in turn taught Karyn Waters, who assumed the business in 2012 to keep the proud legacy alive.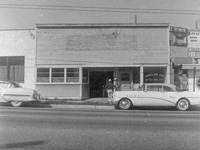 1958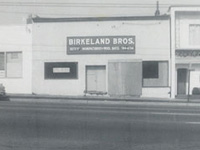 1964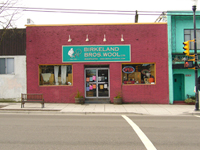 March 2012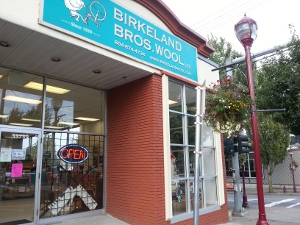 Current
The Birkeland business originally emphasized wool processing and batting with the two ton, over 100 years old belt-driven carding machine. The carding machine almost didn't make it to Main street when a dispute over import duties irritated Olaf. Canada Customs wanted him to pay duty on the machine and, ever the negotiator, he told Customs to dump it into the ocean, he wasn't going to pay. (His wife Anna made him sleep on the couch that night!) Eventually, Customs backed down and the machine supported the Birkeland family for more than seven decades!
The business now stocks a wide variety of yarns for knitters and crocheters as well as supplies for spinners, weavers and felters. In 1999, Birkeland Bros. Wool jumped into the 21st century by becoming the first BC wool store to go online with a website, email and international ordering and shipping!
In 2012, health reasons forced Cara to re-assess her options and consider drastic changes. When she announced a decision to close the doors of Birkeland Bros Wool and focus on new horizons, Cara received an outpouring of wonderful and touching feedback... and one customer could not stand to see the famous Birkeland Carding Machine retired.
In March 2012, it was announced that Karyn Waters had purchased the business and would continue running in the proud Birkeland family tradition at a new Abbotsford, BC, location.
Moving the Birkeland Carding Machine was a monumental challenge. However, the successful move has allowed us to put the historic carding machine on full display in our storefront, where it still runs weekly!
| | |
| --- | --- |
| | |
| Oivind (Olaf and Mike's brother) using the carding machine in Norway [1930s] | Peter (Olaf and Mike's brother) sorting wool rags in the Norway factory [1940s] |
| | |
| Olaf Birkeland, having a break during store renovations [1958] | Olaf Birkeland, the Head Carder at Birkeland Brothers [1966] |
| | |
| Norman and Gordon, sons of Olaf Birkeland [1993] | Norman and Cara, son and granddaughter of Olaf Birkeland [2008] |